Zaitzevia thermae, Warm Springs Zaitzevian Riffle Beetle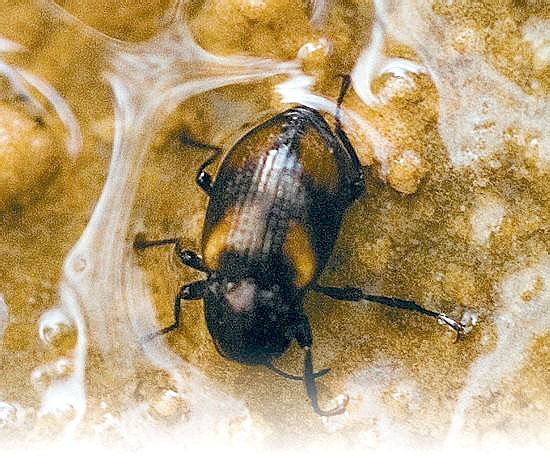 The Zaitzevian Riffle Beetle belongs to the family Elmidae, which is a small flightless aquatic beetle found only in Gallatin County, Montana. It is endemic to Bridger Creek Warm Springs near Bozeman, MT. The habitat, which is approximately thirty five square meters, is owned by the federal government and lies on the Fish Technology Center property.
The beetle feeds on algae on the gravel bottom and among vegetation, requiring flowing water to breathe. Water temperature and condition is probably the most critical component of this species' biology—it requires surface flowing warm water ranging in temperatures of 60-84F. One source claims that there are between 1 and 1000 individuals left alive.
The destruction of this beetle's habitat has been its number one reason for decline. In the early 1900s a large cement water collection box was built around much of the springs, at which time the species was still found within the box. Then, in the 1970s, a solid metal roof was put on the box, preventing all light from entering. The beetle's food source, algae, was not able to grow, which eliminated the interior of the box as a habitat. The beetles were then only found on the edges of the box until 1993, when fill was placed outside and over the remaining spring. The fill has been removed in an attempt to salvage the beetle's remaining habitat. Following the restoration, the riffle beetle population was at an all-time high. The beetle is protected by a chain-linked fence with a sign posted "Government Property".
In 1994 the U.S. Fish and Wildlife Service completed a Conservation Management Plan for Zaitzevia thermae and reduced the listing to 11—moderate to low threat. Though this species never made it to "The List", several conservation efforts have been made to try to restore the habitat and population of this beetle.
Resources: http://fieldguide.mt.gov/detail_IICOL47020.aspx
Written by: Victoria Miranda , 2006
Last Update: Eric Denemark, 2008
Image credit: Image Credit